What Are Air Domes & What Do They Do?
Air dome is a type of air-inflated structures buildings whose construction is very shot-time. It saves the most building materials and operating energy consumption and uses a high-quality architectural fiber membrane as the building "shell."
A set of intelligent electromechanical equipment supplies air inside the Jotun air domes and forms a positive pressure. The "shell" is supported by the air pressure difference between indoors and outdoors, forming a The main body of the building does not need any indoor frame or beam-column support.
The air domes can withstand heavy snow, high or low temperatures, and high winds in all environments. The air domes are energy-saving and environmentally friendly and can be demolished and reused. Therefore, the air-supported dome has a broad market prospect.
The Advantages Of The MetaSpace Air Domes
Supported by air, without any frame or beams inside. Ultra-short construction period: on-site installation only takes one day, simple operation, no construction waste, and no damage to the environment.
Low operating cost, intelligent control, and simple maintenance.
Wind resistance, snow resistance, flame retardant, waterproof, rust-proof, anti-corrosion, shock-proof, insect-proof, heat-resistant, low-temperature resistance, can cope with various harsh environments, and excellent energy saving.
Controllable Air Quality:
Anti-smog, adjustable temperature and humidity, and can achieve oxygen-enhancing function.
Simple disassembly, no loss, reusable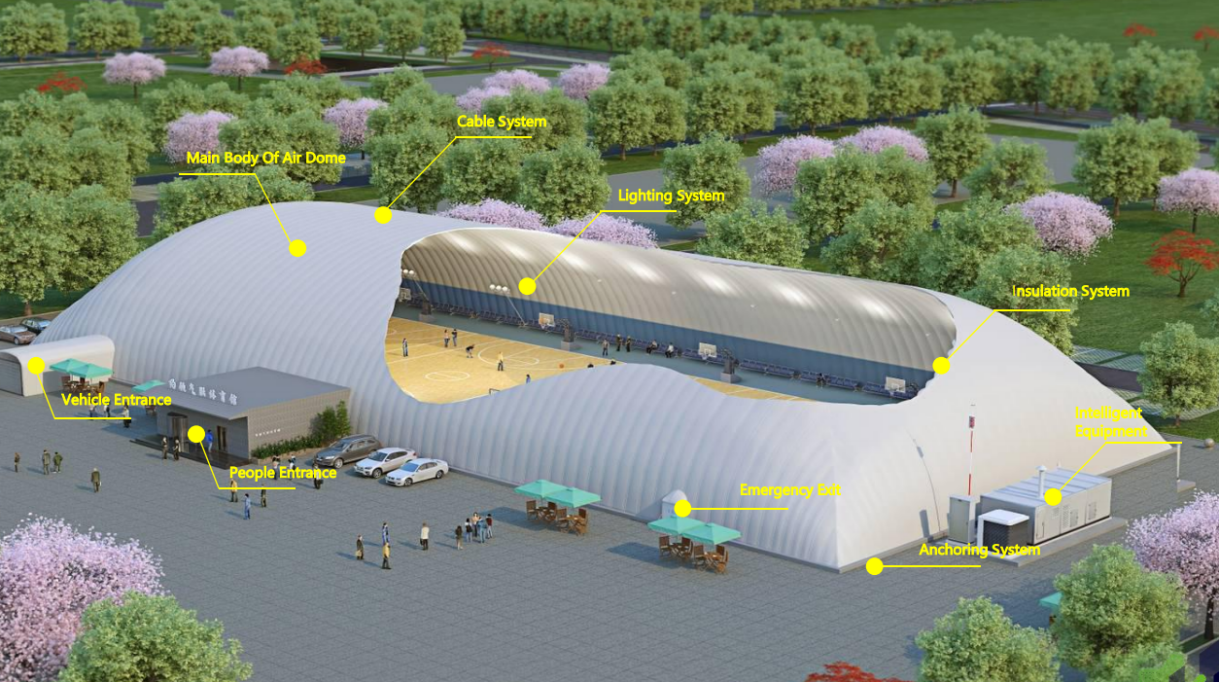 Why Choose MetaSpace Air Domes?
MetaSpace takes care of each project of air-supported domes. We help design and build domes of tensile membrane structures and air-inflated structures.
√ Determine wind, snow, earthquake, and other loads, carry out internal force analysis, membrane material selection, and provide foot reaction force;
√ Select mechanical equipment according to the requirements of use and the number of users;
√ Select thermal insulation measures according to the local natural environment (temperature, altitude, air pressure), and carry out the in-depth design of mechanical equipment;
√ Follow the relevant local architectural design codes for safety, lighting, ventilation, energy saving, environmental protection, and other aspects of design
The Quality Of MetaSpace Has Gone Through The Test Of Time And Space
In the past16 years, MetaSpace Air Dome has promoted China Air Dome go global with its excellent quality. Since 2006, MetaSpace established the first air-supported dome in China, all air dome projects are operating normally.
Respond To Needs Professionally
MetaSpace combines independent innovation and integration of advanced technology to quickly respond to the individual needs of customers, providing customers with immediate, professional, reliable and efficient one-stop services from business consulting, design, production, installation to after-sales. We're here to provide you with more information and answer any questions about your new project. For more information contact us.