METASPACE offers the most environmentally friendly air domes. Choosing METASPACE air dome means low running costs and rapid return on investment.
Air domes offer the perfect solution for performing activities in the open air and can be built at a substantially cheaper cost than any traditional building. Thanks to the newest materials and technology, no matter the weather, you can enjoy low running expenses and pleasant playing or controllable storage conditions within METASPACE air domes.
The METASPACE dome is the perfect shelter to protect your sports field from external weather conditions and provide a safe and comfortable indoor space for a variety of sports activities. By providing a high-capacity play area and space for spectators and equipment, the METASPACE Sports Dome is the perfect venue for recreational or professional indoor sports. For most cases, METASPACE provide customers with the soccer domes, tennis bubbles, and swim domes. 

Tennis Bubble
SIZE: L114m *W39m *H13.5m
 Area: 4446m²

Ice Skating Air Dome
SIZE: L69.5m *W48m *H16.6m
Area: 3369m²

Soccer Dome
SIZE: L197m*W107m*H38m
Area:  21,079m²

Swim Dome
SIZE: L67m *W33m *H12m
Area: 2211m²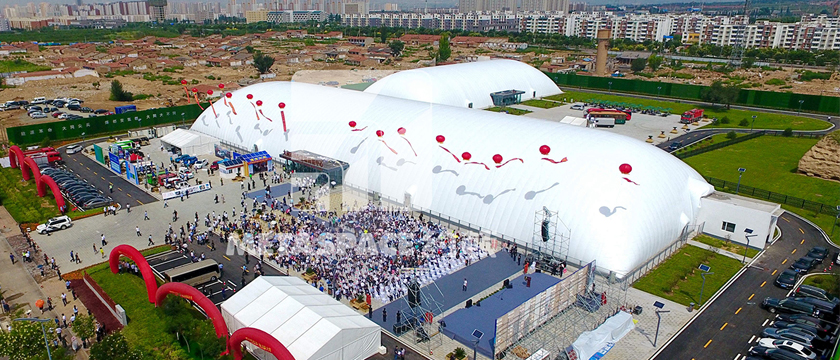 High Space Utilization
Fully supported by air
No need for any frame or beams inside
can easily realize large-span space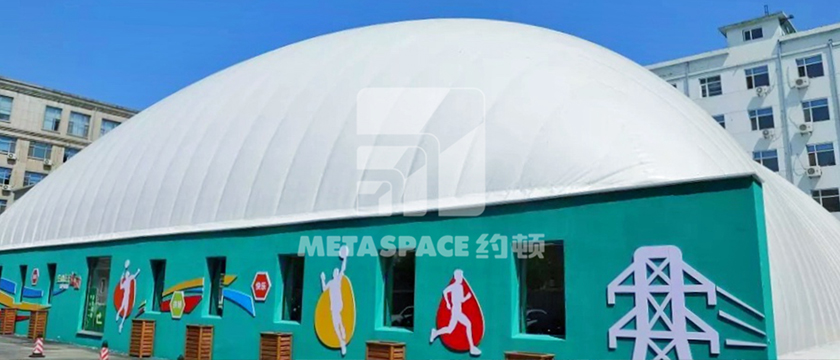 Short Construction Period
Project can be ready to use within 3 months
Simple operation and no construction waste
environmentally friendly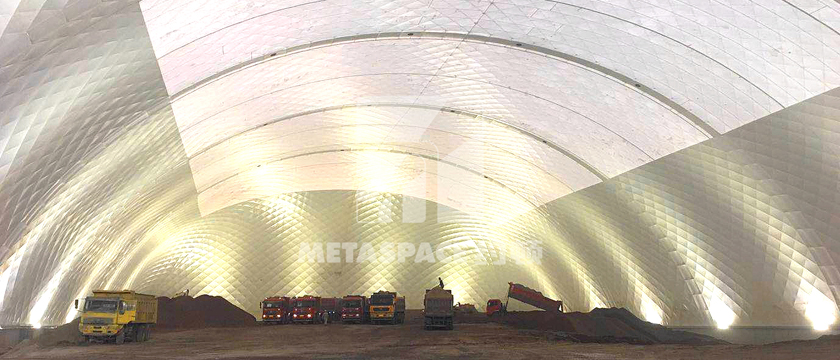 Low Operating Energy Consumption
low operating cost
Intelligent control, easy maintenance
Excellent energy saving effect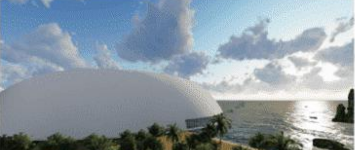 Safety, Environmental Protection, Energy-Saving
Wind-resistant, snow-resistant, flame-retardant, waterproof, rust-resistant
Shock proof, insect proof, corrosion proof, extreme temperature resistant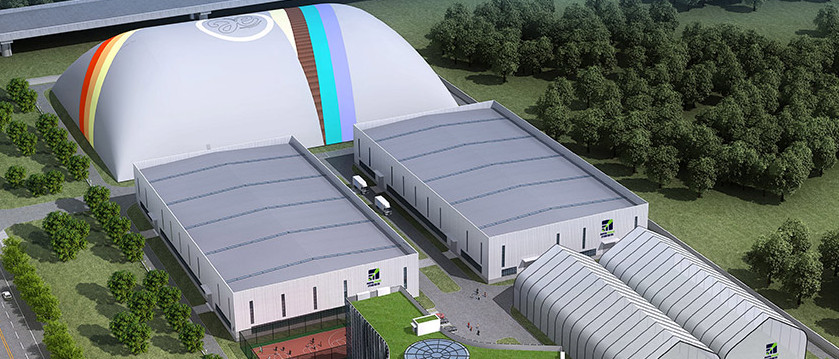 Controllable Air Quality
Completely isolate the haze
Temperature and moderation controllable
Support oxygenation function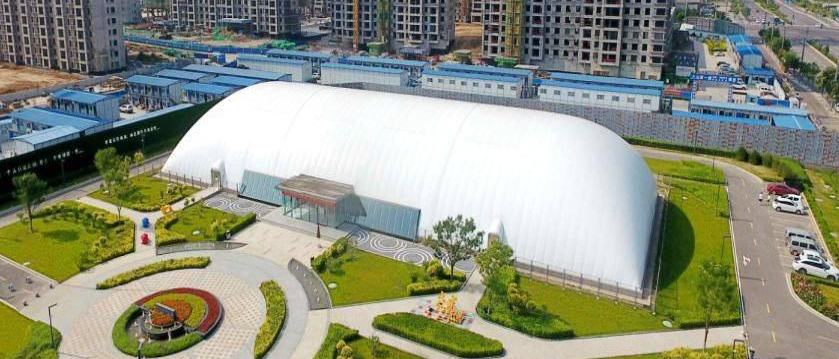 Mobile Reuse
Simple and lossless disassembly
Reusable
<Innovative Air Dome Solutions>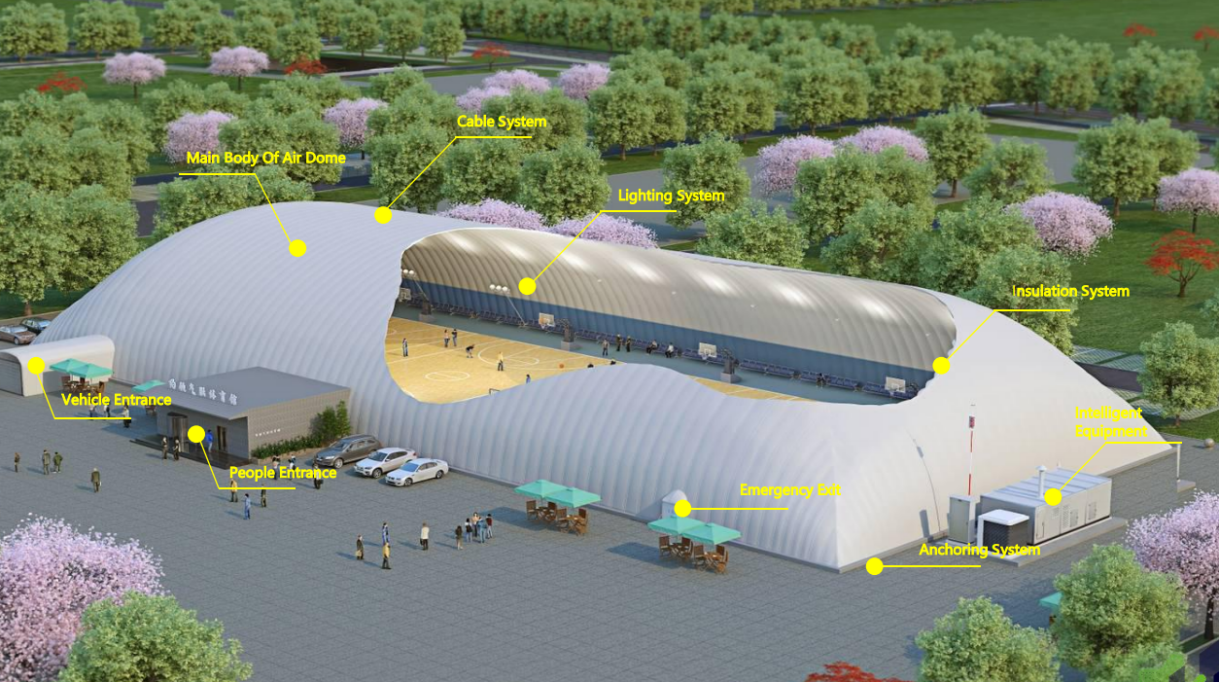 METASPACE® PVF Self-Cleaning Membrane 
The membrane material is an important part of the air dome structure, which not only plays the role of sealing and bearing, but also determines the safety conditions such as the service life of the product. The selection of the membrane material is based on the space function, the environment and service life, the load it bears and the fire protection requirements of the structure. METASPACE® PVF high self-cleaning membrane material meets various requirements for anti-corrosion, self-cleaning, non-leakage, safety and environmental protection.
Wide Range of Appliacation
It has been widely used in multiple industries and scenarios such as national fitness, professional events, cultural tourism and entertainment, modern storage, industrial shelter, plateau life, military training, scientific research and medical care.
Safe and Stable Space
METASPACE air dome withstands extreme weather: temperatures from -40℃ and up to +60℃, storms, strong winds, heavy snow, ice. According to the wind and snow load of the project site, the computer membrane material selection and stress analysis are carried out, and the internal environmental management system is designed in depth through the natural environment and configuration requirements parameters.
Controllable Internal Environment
Real-time monitoring of environmental parameters and automatic adjustment of operating pressure. On the Qinghai-Tibet Plateau with an average altitude of more than 4,000, Our air dome can easily reduce the equivalent altitude by 1,000 meters. In the rapidly developing modern agricultural construction, the air tightness, thermal insulation effect and internal environment control ability of METASPACE air dome meet the construction needs of intelligent storage.
Lower Cost and Higher Investment Return
METASPACE air dome has played an active role in the closed transformation of material sheds and coal sheds, quickly realizing the coverage of over 140 meters span operation area, and the construction cost is only 1/3 of traditional buildings, helping traditional industries reduce carbon emissions and improve productivity,  becoming a model of China's environmental protection space construction technology.
Respond Professionally to Demand
We make customized air dome to meet your need. You can add logo, change colours or design different patterns.  Combining independent innovation and integrating advanced technology, METASPACE quickly responds to the individual needs, and provides customers with instant, professional, reliable and efficient one-stop services from business consulting, design, production, installation to after-sales.
Finally, The cost of air domes depends on their size, quality, and permanency. METASPACE sports dome will significantly reduce your construction costs compared to conventional structures, as it does not require complex site construction preparations such as concrete foundations and frames. Additionally, the inflatable sports dome does not require a construction permit as it is not considered a permanent structure. METASPACE makes every effort to give you a satisfactory solution.
We help innovate the sports, leisure and health experience. We promote convenient sports and gaming experiences.
METASPACE meets the growing market demand for membrane structure buildings in various industries. We have built the world's largest R&D and manufacturing base for Air Doms. We are capable of designing and manufacturing various membrane materials such as PVC, PTFE and ETFE, and have completed more than 300 membrane structure projects.